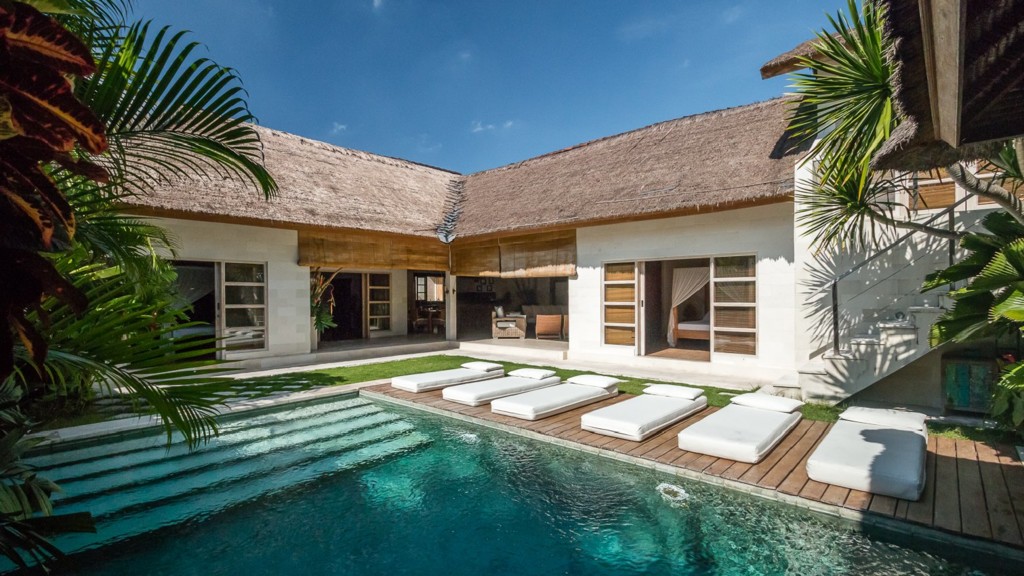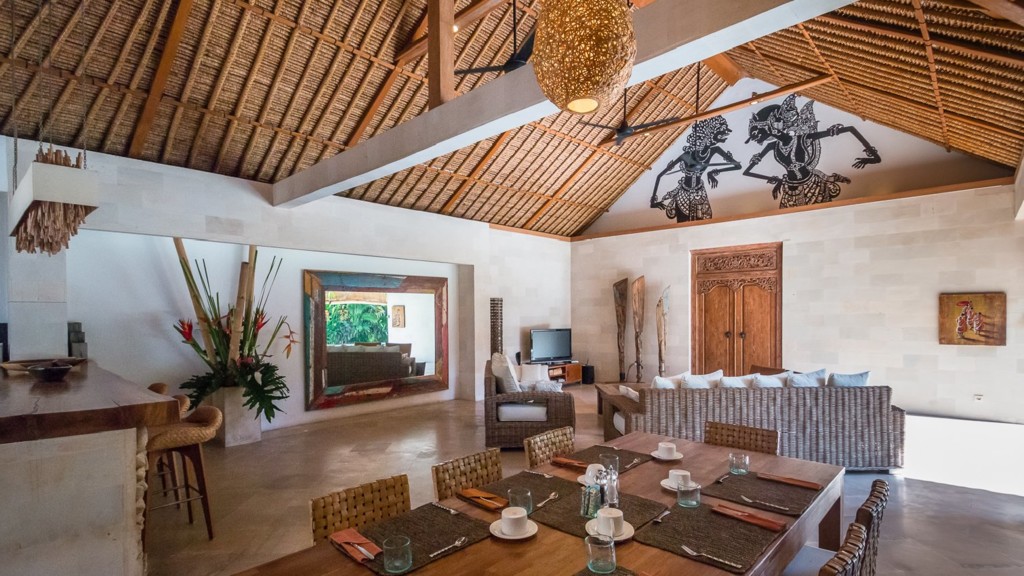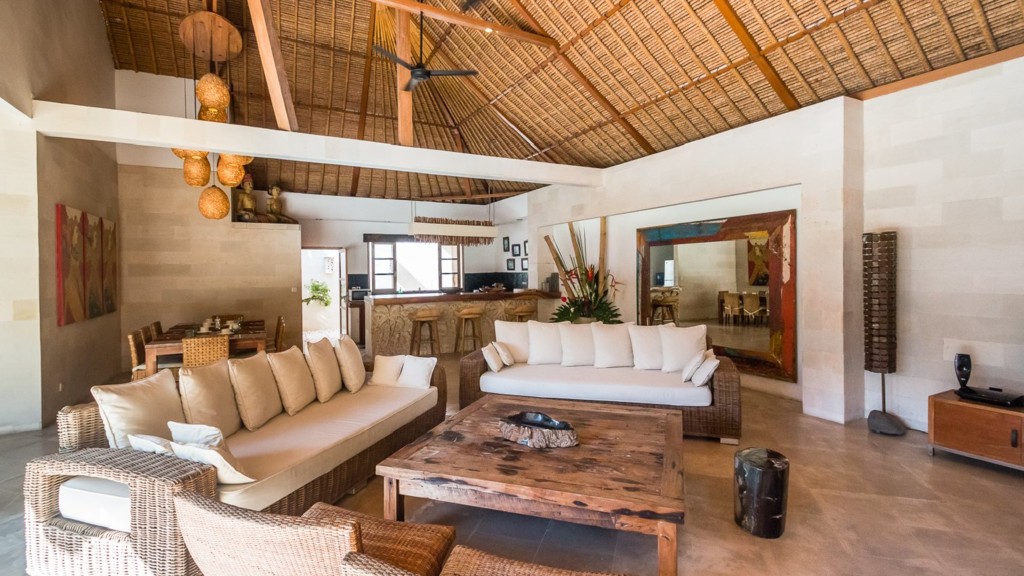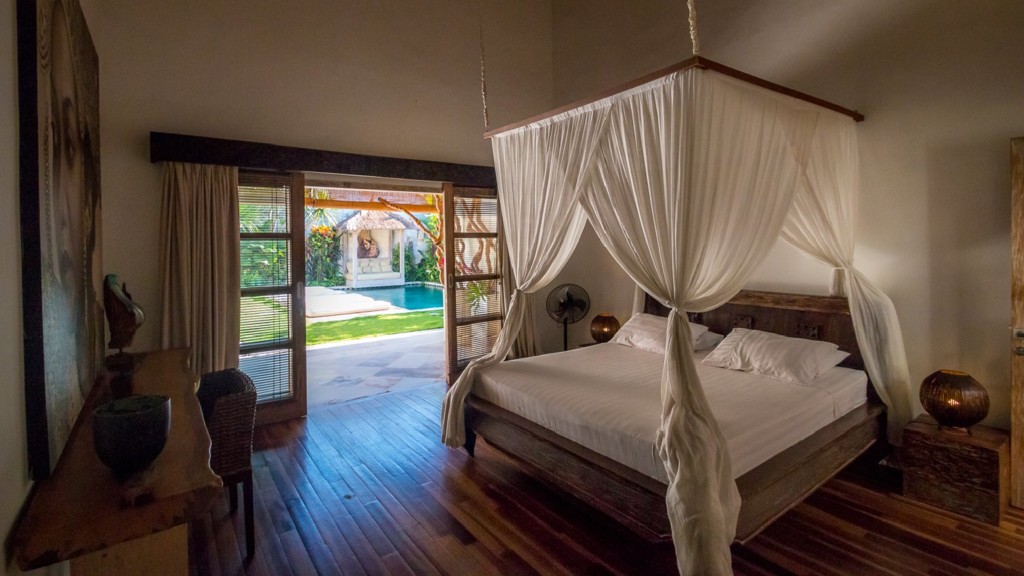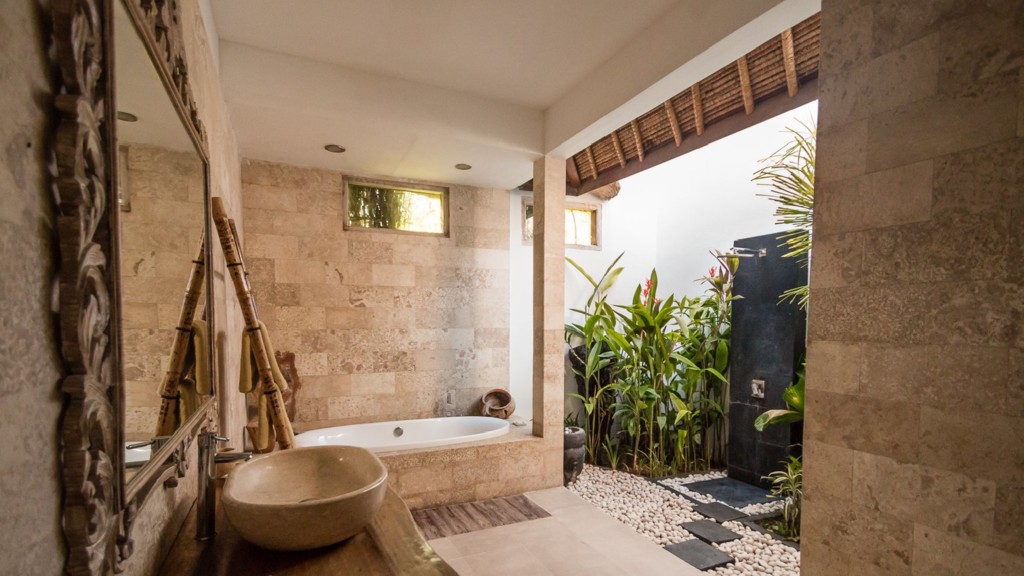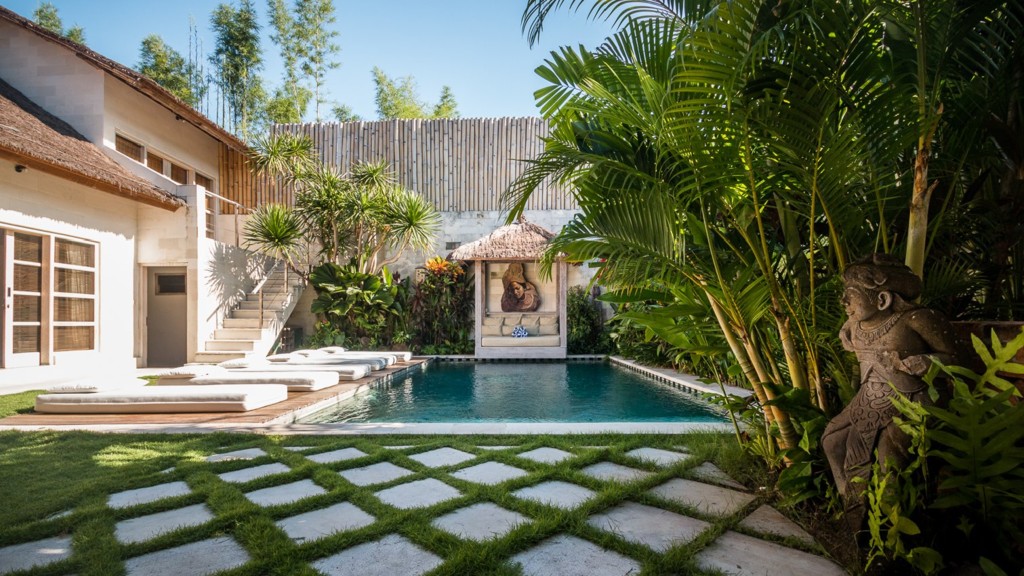 About Villa Anggrek
Villa Anggrek is a
traditional Balinese holiday home
exuding charm and tropical vibes inside out. Located in the
center of Seminyak
, guests will be within
walking distance of the beach
, bars, restaurants, shops and spas but back home at Villa Anggrek, guests will have your own
tropical oasis
to relax in, unwinding completely while holidaying on Bali island. Housing a total of
3 bedrooms
, villa Anggrek is perfect for families or groups of friends wanting to stay somewhere
traditional yet central.
The living area
Villa Anggrek features
traditional tropical architecture
, designed
open-plan to the garden
and topped by a
alang-alang thatched rooftop
. Overhead ceiling fans are mounted to the high soaring rooftop to give that extra breeze while chilling on the sofa or enjoying a family meal together. The villa features a
natural interior design
, matching the architectural style and it is decorated with traditional artifacts and two
mural paintings of wayan puppets.
There are comfy rattan sofas tucked with plush white pillows surrounding a teak coffee table. This is the place to sit together, watching a movie two on the
TV with DVD-player.
The well-equipped kitchen comes with a stone-carved
bar and stools
, perfect for enjoying drinks together. Villa Anggrek also boasts its very own
dedicated spa room
for indulging traditional Balinese massages by excellent spa therapist. Ask the staff to arrange for them to come over to the villa.
Outdoor and pool area
The garden is wonderfully
peaceful and private
with high bamboo walls and an
inviting glistening swimming pool fringed by tropical greenery.
Comfy loungers have been placed by the poolside on the timber deck to sunbathe and relax. At the edge of the pool, sits an
alang-alang roofed gazebo
to find some shade, reading a book or watching the kids play in the pool.
The master bedroom
Villa Anggrek features
not 1 but 2 master suites
, located together in a separate alang-alang roofed pavilion with easy access to the garden and swimming pool through the full-length glass sliding doors. The rooms feature beautiful timber interior designs, they are fitted with AC and in the center of the rooms stand
stunning canopied king-size beds.
Safety deposit boxes are found in the walk-in wardrobe closets and the en-suites are semi-open-air fitted with
bathtubs and alfresco rain-showers.
The guest bedrooms
The guest bedroom flanks one side of the living room. It features air-conditioning, a canopied four-poster bed and a private en-suite fitted with a rain-shower.
Staff and services
Villa Anggrek has
friendly, welcoming staff
awaiting you upon arrival. They will look after their guests with great care during their stay, keeping the villa spotless and assisting where needed.
Around Villa Anggrek
Villa Anggrek is tucked away in a quiet lane of
central Seminyak
, just off of Jalan Kunti. A short walk will lead to Seminyak's main shopping street with the
Bintang supermarket
and great restaurants such as
Queen Tandoori, Ryoshi and Made's Warung.
It takes
15 minutes to walk down to Seminyak beach
where you can watch sunset while sipping cocktails at
La Plancha
, a colorful beach bar with beanbags and Balinese parasols. For high-end dining and shopping, take a Blue Bird Taxi (or walk, or ride your scooter) to Oberoi and Petitenget, the trendiest neighborhood of Seminyak.
Click here to see all 20 villa pictures
Thank you very much for a wonderful stay at Villa Anggrek. It is just a lovely place. You have all been just wonderful in taking good care of me.
Had an amazing 3 days here at Villa Anggrek. A BIG thank you to Nyoman and Ketut for taking such great care of us during our stay! Massage also was nice and relaxing. Thank you for your hospitality!
Amazing amazing stay in the beautiful Villa Anggrek. The staff were truly amazing, enjoyed every moment. This is the third stay now! And we cant wait we return next year.
We have just had an amazing 7 day holiday at Villa Anggrek, relaxing poolside and enjoying Seminyak. The service provided by Nyoman and Ketut was exceptional; nothing was too much trouble and the villa was immaculate. Thank you for the lovely breakfast and dinner and also for organising massages. I will definitely recommend to friends back in Australia and hopefully enjoy another holiday in Villa Anggrek.
Villa Anggrek is a piece of paradise. We had a great stay made all the the better for the fabulous Balinese hospitality. Thank you to Nyoman and Ketut for looking after us so well. Nothing was ever too much trouble and always done with a smile.
Another amazing stay at Villa Anggrek! The tranquility at this beautiful villa is outstanding and the hospitality that Ketut and Nyoman showed us was nothing but First Class. Nothing is ever too much trouble and their cheerful happy faces are a pleasure to wake up to everyday! We had an amazing feast prepared by Nyoman + Ketut and the quality was that on restaurant! Delicious! Thank you all one again for everything at Villa Anggrek and we will return again.
Had an amazing time! Love the villa, service is awesome. Nyoman was amazing and really friendly. We will definitely be back!
What a wonderful stay at Villa Anggrek! Nyoman and other housekeepers were so hospitable and patient with us 6 Australian girls. We felt right at home Waking up to breakfast cooked everyday and rooms cleaned, they definitely take good care of us! Next time we come back to Bali, we would definitely stay here again. The best of health, luck and success to everyone in Villa Anggrek. Thank you so much!
Wow.. what an amazing five days of paradise! To celebrate my 60th birthday, I cant think of a better way to do it than staying here for five days! Wonderful service and fabulous service - meals cooked, massages, wonderful! We will be back!
I came to Villa Anggrek to celebrate my 60th birthday with my wife and another couple from Perth, Australia. This was our first trip to Bali so we really didn't know what to expect. I'm happy to say we made the perfect choice by staying here! It was perfect for what we wanted, quiet, serene, peaceful, relaxing and very comfortable. The pool area provided a relaxing afternoon setting and the central common area was decorated and furnished like you would expect from a luxurious villa! And the women that cleaned and cooked were amazing! Breakfast every morning (included) and dinner when we didn't feel like going out (reasonably priced extra). They did the shopping and it was a very enjoyable feast every time! Six days of heaven, and we had our own massage room upstairs where a lovely and qualified masseuse came every day for three hours! What more could you ask for really? We will be back.
A big thank you to the wonderful staff of Villa Anggrek who really took good care of us and especially our babies. We had a very good time here and hopefully we will be back.
We had an amazing time! And it's all thanks to the wonderful staff! We felt right at home and hand the most beautiful weekend here in Bali. The villa is beautiful and welcoming, cannot wait to get back. A massive thank you to all the staff, you made our stay a million times better!
What an amazing stay! Perfect! We've had such a relaxing getaway which has been so easy thanks to Nyoman and Ketut looking after everything. I couldn't imagine a better place to come and enjoy our birthday week. Bali and Villa Anggrek are paradise! We can't wait to come back and experience Bali of what has to offer. Till' next time!
Villa Anggrek is just perfect! Its such a beautiful place to stay and I wish I could stay forever. It has been such a lovely week relaxing by the poolside and is such a great location. Thank you to Nyoman and Ketut for keeping the place so immaculate throughout our stay and for the tasty home-cooked breakfast.
Villa Anggrek is absolutely charming, super well situated near good restaurants, great nightlife, close to Seminyak Beach and its buzzy beach bars and lots of shopping. The staff is super welcoming, efficient, easy going and helpful making the stay even nicer. The villa's decoration is simple, delicate, arty, mixing local art and other pieces. And super clean. The nearby streets can be a bit noisy though but all in all i highly recommend the villa!
Awesome stay, great property, but most of all great great staff! We will hopefully be back soon! Thank you!
The villa is very beautiful and great services. Decorations looks nice and original, and I like the fact that the couch goes a little beyond the pool. Massages are very pleasant, and the food is always well presented. The general landscapes around the villa are wonderful. It's a superb villa that I would warmly recommend without any hesitation.
We had a wonderful stay at Villa Anggrek which is even more beautiful and nicely decorated than we imagined. A huge thank you to Nyoman & Ketut for making us feel like home! And the massages we had were fabulous! Looking forward to coming back again soon. Thank you so much, merci mille fois !
Another fabulous stay at Bali Mare. The Villa is an oasis, perfect in every way, kept immaculate by the superb Nyoman + Ketut. They really are the jewel Villa Anggrek's crown. Nothing is too much trouble, Nyoman helped me have custom made, and we also had 2 dinner at the villa with wonderful food made by her + Ketut. Already thinking about next July! Thank you so much!
Beautiful villa and excellent service from Nyoman & Ketut. The villa is one of the best & most memorable part of Bali. It is well maintained and tastefully done.
We had a wonderful stay especially due to Nyoman + Ketut. They welcomed us and treated us like royalty throughout our whole stay. Even surprising me with a birthday cake and flowers to start a fantastic day for my birthday. Rooms + facilities are great but nothing makes a holiday as relaxing and comfortable as our beautiful ladies who look after us everyday. Thank you Nyoman and Ketut.
We had a great stay! We are sad to leave! Loved the pool + yummy breakfast. Thank you Nyoman and Ketut for all the things you have done to us. Such great service! Joshua will miss his cuddles with you. Thanks again!
Thank you so much for our amazing stay at Villa Anggrek. When we arrived a week ago, we couldn't believe the luxury of it. Everything you need, amazing pool, rooms and the space wonderfully located so central. A big thank you to Nyoman and Ketut for making our stay so special. Your breakfasts (especially the noodles) are amazing. And your smiley faces we will always remember. I am so glad we've uncovered this piece of paradise. Till next time!
This villa is a very nice villa for relax. The thing I love is the pool in the house!
Excellent stay, very nice villa and great staff. A hidden heaven in buoyant Seminyak. Will certainly recommend to friends and be back again with my family.
Thanks Villa Anggrek for amazing and beautiful stay. We fall in love with the villa, so peaceful and cozy. The breakfast was "yammi" and tasty... and you guys were always so friendly and nice to us. We are coming back soon. PS: We recommend the aromatherapy massage for everyone!
Thank you for an amazing stay! The villa felt like a peaceful oasis and it felt like home immediately. A great sanctuary from the busy streets of Seminyak. Nyoman & Ketut were just wonderful and so welcoming. The Indonesian breakfast cooked by Nyoman was far better than the food at certain Indonesian restaurants! Great attention was paid to every detail. Even the tiny things like arrangement of the fruit platter! Our likes and dislikes in food were taken into account without us even saying a word. Beautiful villa made WONDERFUL by the amazing staff. So happy that we found this gem on villa-bali.com :)
Thanks for this wonderful holiday! The villa is huge and very peaceful!
Time flies so quickly in this beautiful oasis. We really enjoyed our stay here at Villa Anggrek!
The breakfast was awesome and the Balinese dinner cooked by Nyoman is delicious! Thank you so much for taking care all of us!
Great pool & Garden, beautiful rooms and perfect service. We will definitely be back to your villa.We enjoyed so much the stay. Thank you very much for great holiday
Thank you very much "Matur Suksma"! We have had a magical holiday.
Thank you Villa Anggrek for another beautiful stay! It was our second time here and it won't be our last! Nyoman and Ketut were wonderful, keeping the place clean. And a special thanks from Luca for all the bacon you made at breakfast.
Here are our availabilities for the next few months:
Minimum stay
1 Rooms
2 Rooms
3 Rooms
from 14/04/2017 to 22/04/2017
High season
3 nights

USD $

205

USD $

315

USD $

460

from 22/04/2017 to 01/07/2017
Low season
2 nights

USD $

195

USD $

285

USD $

395

from 01/07/2017 to 01/08/2017
High season
3 nights

USD $

205

USD $

315

USD $

460

from 01/08/2017 to 01/09/2017
Peak season
7 nights

USD $

345

USD $

345

USD $

495

from 01/09/2017 to 16/09/2017
High season
3 nights

USD $

205

USD $

315

USD $

460

from 16/09/2017 to 20/12/2017
Low season
2 nights

USD $

195

USD $

285

USD $

395

from 20/12/2017 to 11/01/2018
Peak season
7 nights

USD $

345

USD $

345

USD $

495

from 11/01/2018 to 01/07/2018
Low season
2 nights

USD $

195

USD $

285

USD $

395